'Inbetweeners' Actors Set To Reunite For Brand New Series
Inbetweeners fans are in for a treat, because the people that brought us one of the crudest and most outrageous comedy shows on TV are back with a new series, and they're bringing a few familiar faces with them.
James Buckley, who played Jay in the hit show, and Joe Thomas, who played Simon, are getting together once again for new BBC comedy, White Gold, which is also produced by Inbetweeners creator Damon Beesley.
The actors will play two double glazing salesman from Essex in the 1980s – led by Gossip Girl's Ed Westwick, who plays charismatic salesman extraordinaire (and their boss) Vincent Swan – a handsome and cocksure individual that lives for selling.
You can watch the trailer for the show here:
The show has a distinctly 80s feel to it, particularly due to the bad facial hair and New Order's 'Blue Monday' playing throughout the trailer. It basically looks like Wolf Of Wall Street in Essex, but instead of selling stocks it's bits of plastic and windows.
Fans of The Inbetweeners can expect much of the same X-rated humour, rudeness, swearing and awkward episodes in the new show, although this time they've swapped the classroom for the salesroom floor. By the looks of it though they might have a bit more luck with the ladies this time around.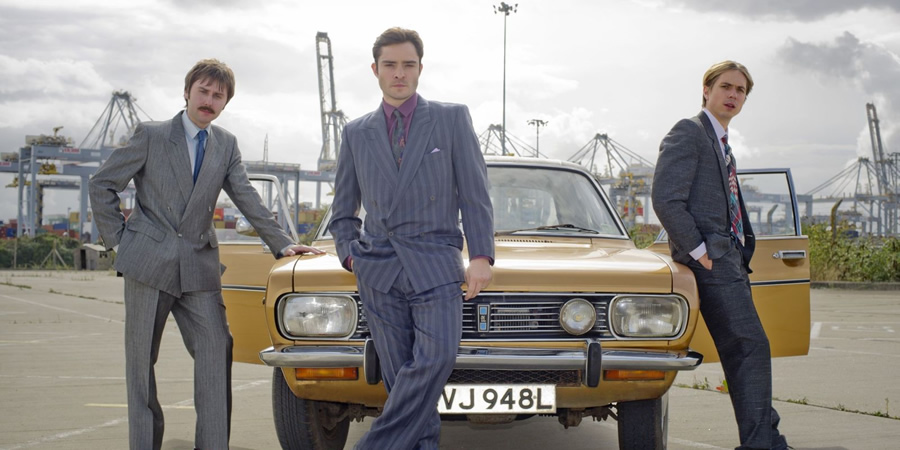 Given the era it's set in, creator Damon Beesley says some viewers may be offended by a few racist jokes and political incorrectness that were a sign of the times.
As he pointed out in a recent Q&A though, he's trying to portray that decade rather than the 21st century.
Damon said: "The show is set in the 1980s and the lines are of that era.
"We are not going to use them gratuitously.
"The characters who make these comments are picked up about their behaviour."
It looks pretty entertaining, and it'll be great to see Buckley and Thomas back on screen together.
Thomas helped write some of the series and didn't miss an opportunity to poke some fun at his co-star.
'It was great working with James again,' he explained. 'I wrote jokes where I called him Buck Ugly and I think he looks like Yoda.'
White Gold starts at 10pm on Wednesday 24th May on BBC Two.
What do you think of the trailer, will you be watching it? Let us know in the comments below!
Images via Channel 4/BBC